Kayak and Poly Boat Repairs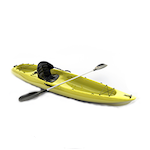 Plastic welding is very well suited to making repairs to kayaks and poly boats. Whether its fallen of the car, hit a rock or has been dragged on the ground one too many times we will be able to make worthwhile repairs to your kayak and get it back out on the water.

Our process is able to make repairs to kayaks that have undergone substantial damage and is a far cheaper alternative to replacing and disposing or your current one.

When repairing a kayak or poly boat it is important to understand that there are no available glues that work on polyethylene plastics which suitable for forces and stresses kayaks or boats are put through during use.

Kayaks and poly boats are generally made out of either low density polyethylene(LDPE) or high density polyethylene(HDPE) which is very apt for plastic welding and plastic repair.

Please get in touch with us via the online form or give us a phone call to discuss your repair.